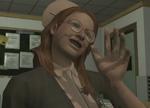 Fiona is the hospital receptionist and a riddle master. People often call her "Freckles." She is very friendly and down to earth as well as talkative. It is implied that she has a bit of a crush on Dr.
Ushah Johnson
. Fiona can usually be found at the hospital reading medical books.
Photo Gallery
Edit
Ad blocker interference detected!
Wikia is a free-to-use site that makes money from advertising. We have a modified experience for viewers using ad blockers

Wikia is not accessible if you've made further modifications. Remove the custom ad blocker rule(s) and the page will load as expected.