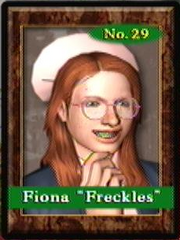 Description
Edit
The hospital receptionist. Calm and down to earth. People call her "Freckles," but she calls her freckles "Angel Kisses."
At the fishing spot on Muffler Road (between the hospital and the hotel).
Ad blocker interference detected!
Wikia is a free-to-use site that makes money from advertising. We have a modified experience for viewers using ad blockers

Wikia is not accessible if you've made further modifications. Remove the custom ad blocker rule(s) and the page will load as expected.