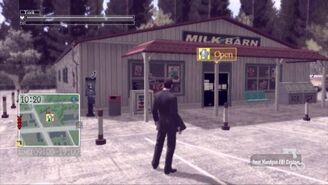 Hours of OperationEdit
08:00 A.M. - 20:00 P.M. Closed during the rain.
(There is a sign on the front door that says the store is now open at 06:00 A.M. This is not true.)
About the Milk BarnEdit
The Milk Barn is a convenience store owned and operated by Keith and Lilly Ingram. It is located in the western part of town on the corner of Tree Street and January Way.
Like the diner, this store serves as a bit of a hub in town. Many of Greenvale's citizens show up there at various times, and both Keith and Lilly are excellent sources of information about the town's doings. Both Ingrams have lists of items for purchase, from bait to ammunition to food. Keith also possesses three maps that lead to special locations in town where Francis York Morgan can pick up infinite weapons.
The Milk Barn is also the location of several Side Missions, which offer things like discounts at the store.
EmployeesEdit
OccupantsEdit
Ad blocker interference detected!
Wikia is a free-to-use site that makes money from advertising. We have a modified experience for viewers using ad blockers

Wikia is not accessible if you've made further modifications. Remove the custom ad blocker rule(s) and the page will load as expected.