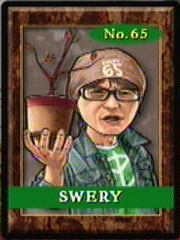 Description
Edit
The director of this game. He created [DEADLY PREMONITION] and was inspired by the small towns in the North-West. He loves big hamburgers, and can't live without ketchup. There are many Easter eggs about him hidden in the game. Try to find them all.
Unlocked after completing the game and clicking on "Special" in the Start menu. The player must view video 35 (epilogue) in the TV section, listen to song 14 (Miss Stiletto Heels Full Version) in the Juke Box section, view card 26 (Polly Oxford) in the Trading Cards section and view picture 3 in collection 2 in the Collection section in that order. Then the player must enter the ??? door and go through the white room doors until York appears. He will hand Zach the SWERY card.
Swery's real name is Hidetaka Suehiro.
Ad blocker interference detected!
Wikia is a free-to-use site that makes money from advertising. We have a modified experience for viewers using ad blockers

Wikia is not accessible if you've made further modifications. Remove the custom ad blocker rule(s) and the page will load as expected.