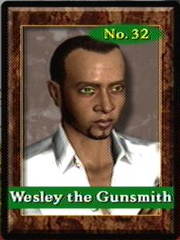 Description
Edit
Owner and gunsmith of the "Panda Bear" gun store. Customers come from far away to buy his guns. He likes to say, "Guns are just tools for killing people. I don't like it any more than you do."
Given by Wesley after completing Quest 35: Beginner Collector.
Ad blocker interference detected!
Wikia is a free-to-use site that makes money from advertising. We have a modified experience for viewers using ad blockers

Wikia is not accessible if you've made further modifications. Remove the custom ad blocker rule(s) and the page will load as expected.